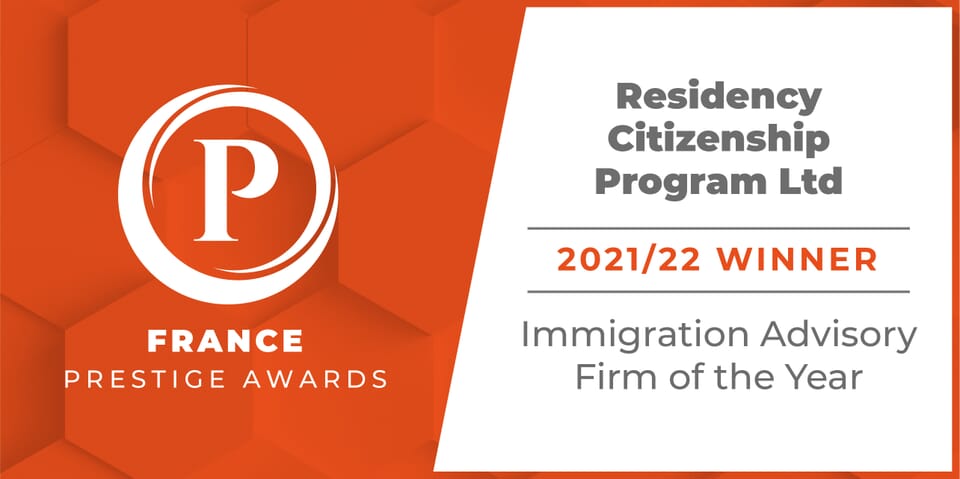 The France Prestige Awards 2021/22 is pleased to announce that Residency Citizenship Program Ltd is recognised as the Immigration Advisory Firm of the Year.
The France Prestige Awards 2021/22 celebrates small and medium-sized enterprises consisting of localised businesses and sole traders that have thrived in their highly competitive community and have proven their success.
Over the past year, 924 nominations were received by the awards team at Prestige Awards by industry experts, readers, and satisfied customers.
All shortlisted companies put forward in the prestige awards are asked to support their nomination with evidence of their work, positive feedback from their clients, information on previous accreditation and recognition, and highlighting the most outstanding parts of their businesses.
The judging panel base their decisions upon service excellence, quality of the product/ service provided, innovative practices, value, ethical or sustainable methods of working, and consistency in performance.
The winners selected are those who can best demonstrate their strengths in these areas.
Awards Judge, Andrew White, commented: "We were delighted with the volume of nominations received for this year's France Prestige Awards. Each chosen winner has truly deserved to be presented with an award, and we wish them all continued success over the coming years."
See the Winners Guide.